North Sea and coasts
Common scoter aerial surveys in the context of Spisula fishery
Since 2018, Martin Poot investigates the distribution of common scoters in the coastal zone of the Wadden Islands, together with Wageningen Marine Research (WMR) and Altenburg & Wymenga. We do this from a survey aircraft. The distribution pattern of the sea ducks is related to important preys such as Spisula (the half-truncated beach shell). We also record the positions of ships during the counts because they can disturb the ducks. Peter van Horssen (Greenstat) processes all information into beautiful map images. This research takes place within the framework of the EMFF project (European Fund for Maritime Affairs and Fisheries) - Space for birds and fishermen, carried out by WMR on behalf of RVO (Netherlands Enterprise Agency). For more information visit the project page on the WMR website.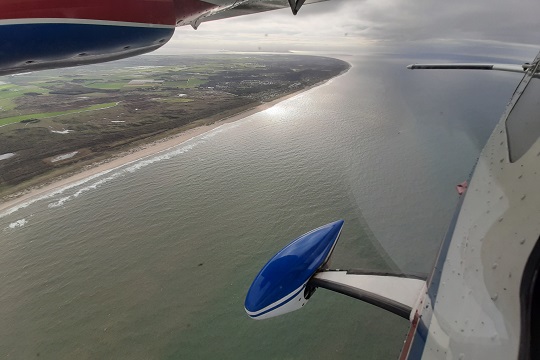 Network members
Other stakeholders
Wageningen Marine Research
Altenburg & Wymenga

Lowland Ecology Network
The Lowland Ecology Network is a network of freelancers who focus on ecological research, advice and communication. The emphasis is on nature protection of wetlands at home and abroad. Each participant has specific expertise and as a network we can respond fast and quickly solve complex issues. We are wel connected with experts on subjects  such as photography / film, design and nature legislation.