Communication and education
Nature as the best teaching subject
Sustainable PABO has been coordinating nature three-day courses for third-year PABO students for a number of years. The three-day events are organised in natural areas that appeal to the imagination - managed by Landscape organisations, Natuurmonumenten or Staatsbosbeheer, such as the Verdronken Land van Saeftinghe and the Biesbosch. Children/ pupils from mainstream primary and special primary education are present who experience the lesson programs developed by the students on site.
The students are supervised by teachers from the relevant PABOs, a teacher from Sustainable PABO, and local experts such as a guide from Het Zeeuws Landschap, guest lecturers from Natuur & Zo and Natuurwijs and also two biologists/bird ecologists from the Lowland Ecology Network. Sustainable PABO cooperates with WWF, IVN Veldwerk, ARK, Natuurwijs, the Landschappen and Staatsbosbeheer.
One of the lessons is about the relationships of birds with their environment. Martin Poot and Camilla Dreef take the students into the field to teach this subject based on the birds present on site. On the basis of their own field experiences, the students make a lesson program that is given to the children the following two days under supervision. The PABO students are always very enthusiastic about the multi-day nature experiences with primary school students, which is helped by the fun and involvement of the children. The students and also the teachers see and experience that the children / pupils are optimally involved in the activities.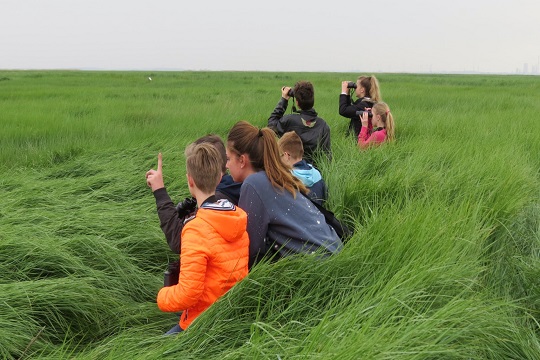 Network members
Other stakeholders
André de Hamer - Duurzame PABO
Other Communication and education projects
Lowland Ecology Network
The Lowland Ecology Network is a network of freelancers who focus on ecological research, advice and communication. The emphasis is on nature protection of wetlands at home and abroad. Each participant has specific expertise and as a network we can respond fast and quickly solve complex issues. We are wel connected with experts on subjects  such as photography / film, design and nature legislation.